I can't tell you how long I've been using a timer myself to keep me from being sidetracked, or in our homeschool for any number of purposes. FlyLady got me started using a timer years ago, along with putting on shoes first thing in the morning -- but that's another story.
A timer can tell you when to check the dryer to keep the permanent press clothes from wrinkling. (You aren't supposed to have to iron permanent press... but if you leave it in the dryer too long, either you have to iron it, or you have to do something else -- but that's another post, too.) A timer can help you accomplish a lot in 15-minute chunks of time, especially things you've been procrastinating on because you "don't have the time right now."
A timer can help a child, too. It can count down music practice, math drills, chores, media time, and more. It can facilitate sharing, keeping fights from breaking out (while keeping Mom sane). I don't have to keep track of whose turn it is (the girls do that just fine) and I don't have to be the mediator ("It's my turn!" "I have five more minutes!" -- No, the timer is a silent -- or not so silent -- witness.)
Timers have improved over the years. I started out with a loud ticking mechanical timer, and progressed to a number of battery-operated models. A number, I say, because the magnetic ones tend to get knocked off the refrigerator and eventually break, and the non-magnetic ones sometimes go missing. I love the timer on a cord that Eldest bought for herself -- she can hang it around her neck when she's keeping track of some task. I want one for myself.
Time Timer,
a nifty gadget that works like a timer, but is useful as a teaching tool and
really
useful as an anti-sidetracking device a la FlyLady.
Time Timer
has improved on the standard kitchen timer I've been using, with a visual display that shows the passage of time.
Our family received the 3-inch model for review. It runs on a single AA battery. It's pretty simple to operate. You just move the raised dot (see it in the illustration, over the number "40") with your fingertip around the dial to the desired number of minutes.
As the timer counts down, the amount of red decreases accordingly. You can actually see the passage of time. See how it works in
this video
at the
Time Timer
website.
I wish I'd had this timer when the girls were little, but they are still learning from using the timer. Whether it's piano practice or computer use, they can see the passage of time, and they find the timer very helpful. (Comment from my most time-challenged daughter, the first time we used the timer to help her manage her computer time:
Mom! I love this timer! I can really keep track with it!
)
We had a little trouble getting it to work at one point, but consulted the troubleshooting tips on the website and soon were up and running.
You can choose silent mode or have it beep at the end of the time. The beep is soft and easy to overlook, so we find the
Time Timer
works best for us when we're doing quiet tasks or have it right in the field of vision. There's a plastic fold-down shield on the 3" version, making it portable, but I've heavily discouraged carrying the timer around. I don't want this one to be misplaced! It's too valuable a tool.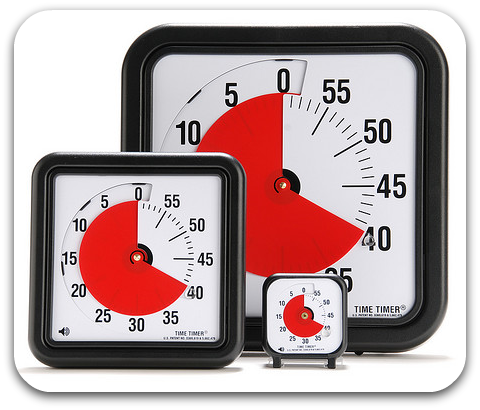 Pricing and availability
You can order the
Time Timer
at this link
. It's available in a number of forms: 3" ($30), 8" ($35), and 12" ($40) timers, wrist timers (like a wristwatch, only it's a
Time Timer
), and software apps for iPod and computer. At first glance the price seemed a little steep to me, but after using the
Time Timer
I'd say it's been well worth it, in terms of helping our teens (yes,
teens
) get a better grasp of the passage of time, not to mention helping them better apply time management concepts.
Read more TOS Crew reviews of
The Time Timer
at
this link
.
Disclaimer: Our family received a 3" Time Timer for review purposes. No additional compensation was involved.