I hadn't heard of
Bower Books
before, but I'm glad to have made their acquaintance. "Picture books for children and their grown-ups" is a great summation, as these beautifully done books are a pleasure to read with your little (and not-so-little) ones. Our family was given the opportunity to review an e-book format of
The Person I Marry: Things I'll Think About Long Before Saying "I Do".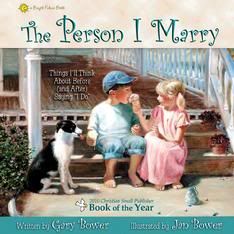 As you can see from the cover, the book has an old-fashioned flavor in its illustrations, harking back to a simpler time. As a matter of fact, the pictures remind me of some of the lovely, realistic illustrations in some of the Little Golden Books I treasured from my childhood.
In pictures and gentle rhyme, the authors spell out a list of qualities to look for in a future spouse. They draw on the Bible for positive character qualities, as well as giving a nod to their twelve children and
their
lists of qualities that they looked for, or are looking for, in a lifelong partner.
Youngest and I sat together to read this book (I wish it had been the physical book, much more cozy to sit on the sofa together with the book spread over our laps, than sitting in front of the computer to read an e-book). It had been difficult to pull her away from the project she was working on, but soon her smile matched mine as she paged her way through. When she was only about halfway through this 32-page book, she was already commenting that this would be a great book to read as a bedtime story with a little child, to keep on the bookshelf, to pull out and read periodically, to read with her husband-to-be, before they get married, to buy a copy for each of her children when they come along.
When we finished reading, she told both her sisters that there was a book on the computer that they just
had
to read as soon as they could take a break from their studies. (And make that
soon.
)
While the book describes a paragon, the authors add balance on the final page, a blank page for the reader to make a personal list of qualities for a future spouse: "Things I'll look for in 'The Person I Marry' (I'll work on these areas in my own life, too.)" It's just what I wanted to say to Youngest as we were going through the book, what I was
going
to say as we discussed the book after reading it, but the authors beat me to it.
The list of fine qualities in the book is not unrealistic and out of reach, but something to aim for in deliberate living: kindness, gentleness, honesty, regard for life, reverence for God, and much, much more. (Just start with the fruit of the Spirit in Galatians 5:22 and go from there...)
The Person I Marry
would be a great book to ponder in the growing-up years. It presents a fine target to shoot for, character qualities that make up a well-rounded individual, a complete and mature adult, someone who will be a blessing to all around.
The authors have a video on their website to give you a taste for the book. If I could figure out the "embed code" I'd put it here, but since I can't, here's a link.
The Person I Marry
from
Bower Books
on
Vimeo.
Pricing and availability
The Person I Marry: Things I'll Think About Long Before Saying "I Do"
is available in hardcover, with 32 full-color pages, from
Bower Books
for $11.99.
Read more TOS Crew reviews of
The Person I Marry
at
this link
.
Disclaimer: Our family received The Person I Marry in e-book format for review purposes. No additional compensation was involved.