Members of this year's Crew were given the opportunity to review
REAL Homeschool Spanish. REAL
is an acronym for Relax, Enjoy, Aspire, and Learn
,
and the curriculum certainly fits the model.
We received a download of a zip file -- a zip file never looks like much, does it? ...but when you unzip it...
Such was the case with this product. All sorts of goodies came spilling out of the zip file. There was a book in color, and another copy of the same book in black and white (I really appreciate that, as when we have a lot of pages to print, we rely on our high speed black and white laser printer, and really only use the color inkjet for small, select print jobs where color is important somehow to interpretation of what's on the page). There was an activity book (more on that in a bit), an answer key, and a lesson planning guide. There was also a folder full of audio files to support the lessons.
Now, I've had three years of high school Spanish, so I'm pretty confident about my pronunciation. (Maybe it's a misplaced confidence... but I'm confident anyhow.) I probably don't need the audio files when I'm directly teaching the materials to one of the girls (who needs a lot more teacher-student interaction than the others), but they come in handy for a more independent student. If I had never learned Spanish, I'd be completely thrilled to have them! The audio files included with
REAL Homeschool Spanish
are nicely punctuated with music and obviously produced with a cheerful native speaker.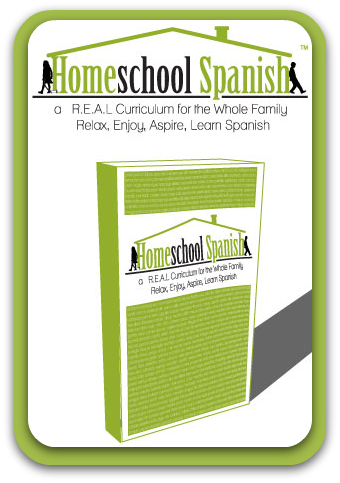 The Book: Ten units are included, covering a range of topics including greetings, colors, numbers, time, food, family, body parts, clothes, animals, sports, transportation, and much, much more! Many basics are covered, providing a groundwork for conversational Spanish.
The Activity Book: This 179-page book contains all sorts of fun exercises that don't feel like academic exercises. There are word unscrambles, crosswords, word searches, cryptograms, and other puzzles. There are also fill-in-the-blanks and dialogues, for slightly more academic-feeling work that cements the material in the lessons.
The Daily Curriculum Guide: This e-book contains a series of charts that take you through the ten units in 48 weeks, giving you an entire year of Spanish instruction. It includes a logical progression through the Activity Book, supplemented by additional activities that complement the lessons. You might research something on the web, cook a recipe, do a craft, or play a game, for example, in addition to working through the lessons in the units.
Pricing and availability
REAL Homeschool Spanish
is available for a $49.95 download ($89.95 hard copy price) at the
REAL Homeschool Spanish website
. Pricing information.
Read more TOS Crew reviews of
REAL Homeschool Spanish
at
this link
.
Disclaimer: Our family received REAL Homeschool Spanish
as a downloaded product for review purposes. No additional compensation was involved.