Here's my very first review for the
Mosaic Reviews Team
, from
Homeschool Mosaics
. Members of the review team were given a list of free blog planners to choose from. It was a difficult choice! I might have chosen a one-page planner that sort of hit the highlights, or a blog planner that had a nice introduction to blogging and a mini-lesson on setting priorities.
But the
Free Printable Blog Planner
from
Homeschool Creations
really spoke to me. I almost passed it by, at first glance. I found 63 planner pages to be overwhelming. I barely have enough time to keep up a blog as it is... and yet, as I perused the pages I found so much practical help that I kept reading. I can also reassure you that you don't really get 63 unique pages to agonize over. Much of the planner is made up of the same few pages, 12 copies of each, so that if you print the planner and bind it, it'll be good for a whole year.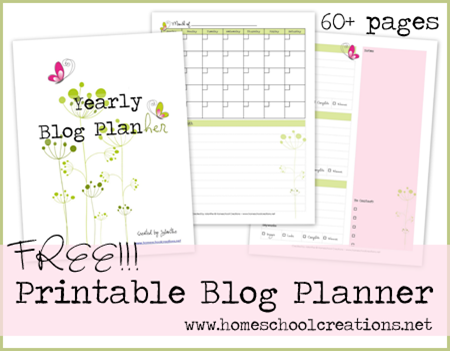 Anyone can be a hit-or-miss blogger. I've done it for years, but I'm trying to get more methodical in this endeavor, as in many others. However, with blogging, as with so many other things, a little planning goes a long, long way. Now if I could just get a little ahead on my blog posts, so that they could be automatically scheduled and just,
plunk!
-- sort of post themselves. That takes time. I've gotten better at planning, but too often lately I've been thrown off my blog plan by an unexpected curve ball, like coming down with a cold, or a too-busy schedule.
With a blog planner, though, I can think through the coming days and weeks, write down themes and ideas, and actually have a target to shoot at. It's so much better than sitting down at the keyboard, looking at that blank page, and thinking in a panic, "I have to blog
something!
"
So what do you get in this blog planner? There's a pretty cover sheet, a link to a blog post where the author shows how she uses her planner (I always find this kind of thing to be very helpful, as I tend to be seized by paralysis when confronted with a blank form), and a 2013 year-at-a-glance calendar. For each month, there's a blank monthly calendar, with an area to record a focus (or eleven) for the month; a page to document reviews, giveaways, notes, and contact information; and two pages of weekly calendars with room for a to-do list for each week. (I haven't used the weekly calendars yet, but I can see how they would be useful as I ease into regular blogging.)
Additional planning helps include pages that will help you keep track of blog statistics, websites and passwords, affiliate information, Twitter hashtags, linkups, an income and expense sheet, and (for the serious blogger whose blog is her business) even a mileage tracker.
A couple of "Notes in my head" pages round out the planner -- honestly, these two pages are the ones that I've found most useful. Now I'm keeping my notes in one place, rather than stuck on sticky notes that end up who-knows where.
The planner is done in a pretty pastel pink-and-green color scheme. It looks really nice on the screen. Mine is printed out in grayscale for the sake of my budget, but it still works.
You can print the planner and bind it, or punch the pages and put it in a separate section of a planning notebook, or even break out the monthly and weekly pages and incorporate them among your homeschool/home planning pages. It's a versatile format!
You can download your own copy of the planner at the link above. It's free!