Everything came together so beautifully. That's one of the things I love about being on the Crew: serendipity. (You might call it Providence.)
We're studying
Christendom
this year in history, starting roughly in AD 33, through the spread of the Gospel, the Middle Ages, and Renaissance. Enter
Pitsco Education
, and the opportunity to review their
Medieval Machines Pack
.

...have I ever mentioned how much of a hands-on learner Youngest is? This is a kid who has a really hard time sitting still, who doesn't seem to need half as much sleep as her mom does, who is bored by books but fascinated by things she can take apart (and put together). This is the one who took apart my sewing machine at age three. (Never did get that back together.) This is the one who is learning to take old computers apart and assemble various parts into a new whole, and enjoying it no end.
Real Hands-on Learning
A kit, that would enable her to put together cool miniature war machines that would throw things? Sounds like a winner.
This has been a tough review to write, because the way I like to go about things is to open the box, go through the contents, read the directions and associated paperwork, and
then
start fitting Tab A into Slot B.
The way this one turned out, I almost didn't get to see the kit, or at least, I got into the game pretty late. The kit arrived at our house while I was out, and when I got home I was greeted with a fully-constructed Trebuchet. Frantic, I grabbed the instructions and began to read them. (Sort of like closing the barn door after the horses have made their exit...)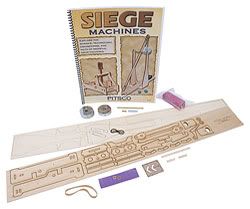 As you can see, you get pretty much everything you need, including the book
Siege Machines
which gives a brief, chatty history of the trebuchet and catapult, along with a number of educational activities starring your newly put together siege machines. The book is written to engage the interest, and the activities are fun, along with educational. (Things like varying the weights on the trebuchet, or the load of clay, to see how it affects performance, measuring results in inches, converting to metric, etc.)
I'd been told that we'd need a certain kind of glue to put the kit together, but our resourceful Youngest used craft glue and it has worked well. (I don't know how well it'll stand up against a lot of wear and tear. We'll see.) Another drawback to the lack of parental involvement was that the machine would not fire the way Youngest was expecting it to. She tried different weights, different string configurations, but couldn't get the ball made from (included in the kit) clay to go more than a few inches, perhaps as much as a foot.
Customer Service
It might have had something to do with the many knots in the string that came with the kit. I got a garbled explanation from Youngest on that one: I'm still not sure if it broke, or if she kept cutting it to try different configurations to get the thing to work the way
she
thought it should. I
do
know that when I compared the Trebuchet to the directions for building it, the string wasn't right.
We unwound the string, but there were an awful lot of knots and I wasn't sure it would work correctly. We tried to re-thread it with some quilting thread, but it still wasn't working right. In desperation I emailed the good people at Pitsco to inquire if the Trebuchet needed a special kind of thread, and where we could buy such, or if we could buy some replacement from Pitsco. I received an email back that said they were looking into my query -- and a day or two later, a packet of Trebuchet thread arrived in the mail. Talk about customer service!
Parental Involvement
While Youngest was able to put together the Trebuchet without any help (or hindrance) from me, she needed help to read the directions for setting up the machine to throw (she wound the string in a way that seemed logical to her, without much reference to the directions). She also would not have done the educational activities in any methodical manner -- though her natural inclination would be to vary the weights on the Pitsco Trebuchet, for example, or the size of the clay projectile, or the type or number of rubber bands on the Catapult. She probably wouldn't have worn safety glasses, or cleared the field of fire, without a mom present, either. Just a word to the wise... (Ah, another opportunity for me to trot out the old cliche, "It's a tool, not a toy.")
Pricing and Availability
The
Medieval Machines Pack
is available from Pitsco for $21.95 and includes almost everything you need (just add a hobby knife, needle-nose pliers, white hobby glue, ruler, sandpaper, and scissors -- all of which, surprisingly enough, we had lying around the house when the package arrived for review).
In Short
This kit makes a great project if you're studying Medieval warfare, or simple machines, and lends itself well to cross-curricular studies.
Read more TOS Crew reviews of Pitsco Education's
Medieval Machines Pack
at
this link
.
Disclaimer: Our family received a Medieval Machines Pack for review purposes. No additional compensation was involved.